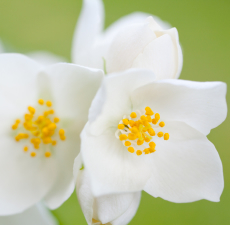 Fragrance Family: Floral, Oriental
Botanical Name: Jasminum grandiflorum
Extraction Method: Solvent Extraction
Origin: India

Jasmine has a smooth, extremely intense floral smell that is both sweet and lingering. Jasmine Grandiflorum is a beautiful plant; its flowers bloom in the early dawn as opposed to Jasmine Sambac that blooms in the evening.
Sandalwood, Ylang Ylang, Orange, Orange Blossom, Vanilla, Cherry Blossom, Amber, Patchouli, Lily of the Valley, Nutmeg, Bergamot, Gardenia, Musk, French Lavender, Agarwood CO2, Osmanthus, Labdanum
Jasmine is well respected for its aphrodisiac properties. It is a sensual, soothing, calming oil that promotes love and peace.
Since ancient times, Jasmine has been referred to as the King of oils (Rose is the Queen). Apparently this is because Jasmine is the most masculine of all the floral oils. It is also interesting to note that it takes 8,000 carefully hand-picked blossoms to produce 1 gram (about 1 ml) of Jasmine Absolute.
Jasmine oil is non-toxic, non-irritant and generally non-sensitizing, although some people do have an allergic reaction to the oil. Due to its emmenagogue properties it should not be used in pregnancy. Using too much of this oil could impede concentration, as it is a deeply relaxing oil.