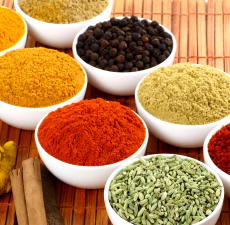 Fragrance Family: Oriental

Can overpower a bit, recommend 10-15% range for wearable fragrances. A delicious, spicy mix. Top notes of almond, allspice, anise, cinnamon and nutmeg. Powder and vanilla at the base.
Vanilla, Clove Bud, Cinnamon, Lavender, Ylang Ylang, Lemon, Lime, Pink Grapefruit, Frankincense, Agarwood CO2, Peppermint Bark, Christmas Eve
Improves circulation; calms the nerves, removes stress; promotes a restful sleep; the vapors open sinus and breathing passages; mood uplifting; improves digestion; purifying, helps to reduce cellulite; loosens tight muscles; lessens pain.
Allspice was encountered by Christopher Columbus on the island of Jamaica during his second voyage to the New World, and named by Dr. Diego Alvarez Chanca. It was introduced into European and Mediterranean cuisines in the 16th century. It continued to be grown primarily in Jamaica, though a few other Central American countries produced allspice in comparatively small quantities.
Can irritate the skin and should either be avoided or used with extra care by people with sensitive skin.