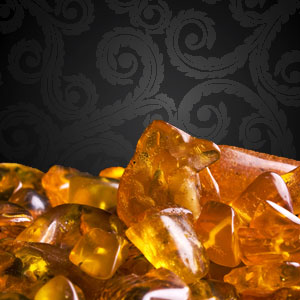 Fragrance Family: Oriental
Botanical Name: Pinus Succinifera
Extraction Method: Steam Distilled
Origin: India

Resinous, warm and smoky with an undertone of floral citrus. Encourages harmony and balance. Perfumery amber is so called, because the golden color of the blend resembles the semi-precious amber jewel. Sweet and voluptuous, perfumery amber is quite versatile, and whenever one encounters a fragrance named Amber or Ambre, it is likely to be a warm, vanilla and labdanum based blend.
Lavender, Patchouli, Pink Grapefruit, Vanilla, Pine, Cedarwood, Myrrh, Frankincense, Clove, Anise, Lemon, Orange, Rose, Jasmine, Benzoin, Agarwood CO2
Admired by its charm and grace, it has been given various names on which one can write poetry and say words of praise. The words such as Tears of sun, Tiger's soul, Hardened honey, Petrified light, Window to the past, Nordic gold and many more. According to scientists Amber is fossilized tree resin that has taken millions of years to form.