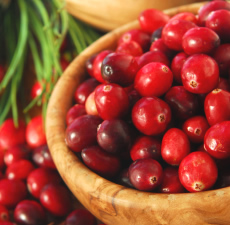 Fragrance Family: Citrus/Fruity

A wonderful fresh, tart cranberry with a little sweetness. Cranberry is a conifer shrub with small, round, red fruit. The leaves are tiny, hidden with larger fruits, which are white in the beginning, but redden with time.
Rose, Vanilla, Patchouli, Vetiver, Sandalwood, Tonka Bean, Musk, Amber, Peach, Cherry Blossom
The berries are full of vitamins, magnesium and calcium. They are also very useful in prevention and treatment of health problems, such as those with: cardiovascular and immune system, urinary infections, digestion and dental plaque. They also contain anti-cancer agents.
Indians used to make dishes with cranberries. They mixed dried fruit with dry meat and melted fat to make nutritious food for winter. Americans use cranberries very often nowadays, whether fresh, dry or in the form of juice, compote, sauce or jelly. The most popular dish is definitely sweet jelly eaten with roasted turkey, which makes an excellent combination of a salty and sweet dish typical of Thanksgiving Day.