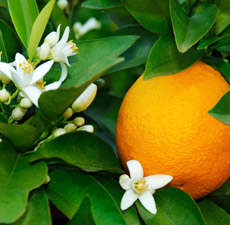 Fragrance Family: Floral, Oriental
Botanical Name: Petitgrain bigarade
Extraction Method: Steam Distilled
Origin: Italy

Smells like orange blossoms, but less floral, more herbaceous, and with a bitter undertone. Native to Southeast Asia, the bitter orange tree that provides Petitgrain, Bitter Orange and Neroli now grows throughout the Mediterranean and sub-tropic areas worldwide.
Bergamot, Cedarwood, Clary Sage, Geranium, Lavender, Lime, Jasmine, Neroli, Orange, Palmarosa, Rosemary, Sandalwood, Ylang Ylang
Originally the oil was produced from the unripe oranges when they were the size of cherries; in fact its name comes from petit grain, which in French means 'little grain'. This proved uneconomical, and thus began its extraction from the leaves and twigs of the tree instead. It is used extensively in perfumery and cosmetic preparations.
May cause skin irritation in some individuals; a skin test is recommended prior to use. Contact with eyes should be avoided.