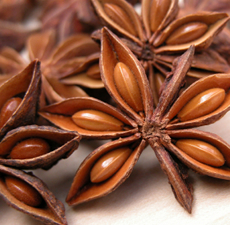 Fragrance Family: Greens
Botanical Name: Illicium verum
Extraction Method: Steam Distilled
Origin: China

Star Anise has a powerful and licorice-like scent. A small to medium evergreen tree of the magnolia family, reaching up to 8m (26ft). The leaves are lanceolate and the axillary flowers are yellow. The fruits are harvested before they ripen, then sun dried. It is, as the name suggests, star shaped, radiating between five and ten pointed boat-shaped sections, about eight on average. These hard sections are seedpods. Tough skinned and rust colored, they measure up to 3cm long.
Lavender, Pine, Orange, Rosewood, Clove Bud, Cinnamon, Lemon, Violet, Black Cherry, Tonka Bean, Vanilla, Vetiver, Ginger Root, Plum
The potent chemical constituents of Star Anise include trans-anethole and safrole, and can cause dermatitis in sensitive individuals. The seeds have traditionally been used in the East in small quantities, as a spice and remedy but also as a carminative, stomachic, stimulant and diuretic for combating colic, indigestion, and rheumatism.
For centuries, the seeds of Star Anise have been chewed in small quantities after each meal to promote digestion and sweeten the breath. The Japanese plant this tree in their temples and on tombs, and use the pounded bark as incense. Homeopaths prepare tinctures from the seeds.
Star Anise is generally non-toxic and non-irritating (unlike Illicium anisatum the Japanese variety that is long considered toxic). It should not be used by anyone who is allergic or has inflamed skin; is pregnant, nursing, or who has a serious medical condition such as endometriosis or other oestrogen-dependent conditions or cancer.