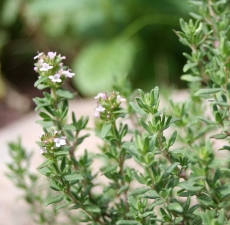 Fragrance Family: Oriental, Woody
Botanical Name: Origanum marjorana
Extraction Method: Steam Distilled
Origin: Egypt

Can overpower, recommend 5-10% range for wearable fragrances. Marjoram Sweet Essential Oil has a warm and spicy aroma, with a hint of nutmeg. Marjoram Essential Oil is derived from the plant – a bushy perennial growing up to 60cm in height with a hairy stem, dark green oval leaves and small whitish flowers found in clusters. The entire plant is extremely aromatic.
Orange, Lavender, Tangerine, Frankincense, Eucalyptus, Thyme, Chamomile, Nutmeg, Cardamom, Ginger Root, Sensual Amber
Warming and comforting, Marjoram Sweet Essential Oil can be massaged into the abdomen during menstruation, or added to a warm compress. It is also useful for treating tired aching muscles, and is perfect for use in a sports massage. A few drops on a vaporizer will also encourage sleep, and a few drops can be added to a warm/hot bath at the first signs of a cold. It can also be used in masculine, oriental, and herbal-spicy perfumes and colognes.
Marjoram Sweet Essential Oil was very popular and a common medicinal plant amongst the ancient Greeks. The name itself originates from a Greek word meaning "Joy of the Mountains".
Marjoram Sweet Essential Oil is generally non-toxic, non-irritating and non-sensitizing. Avoid use during pregnancy.