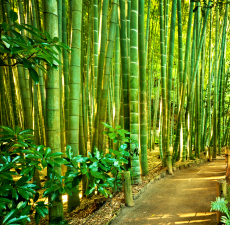 Fragrance Family: Woody, Greens

An intoxicatingly fresh, well-balanced, green fragrance encompassing a fusion of the following unique fragrance notes: golden bamboo, sparkling bergamot, red grapefruit, night-blooming jasmine, cyclamen, muguet lily, and wild grasses. Bamboo is a perennial evergreen and the largest member of the grass family. Some variety of this hardy and fast-growing plant is found in almost every continent, though Continental Europe has no native bamboo species.
Bergamot, Patchouli, Sandalwood, Musk, Rosemary, Lemon, Jasmine, Lime, Green Apple, Vetiver, Blackberry, Peony, Jasmine Night
The larger species of Bamboo provide an important source of timber in Asian countries. Other varieties of the plant are used for paper-making, in textiles, for decorative purpose or as a food source by a variety of animals, including humans.