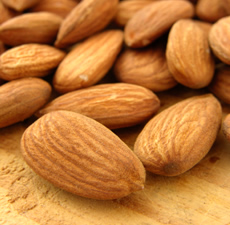 Fragrance Family: Oriental

For Almond lovers, this is one that you have to try! Our Almond is strong and true, with an almost-imperceptible floral note to round out the scent.
Cherry Blossom, Strawberry, Apple Cinnamon, Green Apple, Chocolate, Coconut, Tuberose, Rose Garden
The term almond is used in reference to both the tree and to its edible seeds. The Almond tree is native to the Middle East and South Asia. The seeds are contained within an outer hull and a hard shell, and are highly prized for their flavor and nutritional value. Almonds are produced in bitter or sweet varieties, and lend themselves well to a variety of culinary styles and sweet or savory dishes.
The oil was first known in the Middle East, and widely used for cooking and aromatherapy. Over the time, it was discovered that this oil is a great product for skin care. There are two types of almond – sweet, and bitter. The sweet almond oil is popularly used as a natural skin care product, while the bitter one is known for its aromatherapy benefits. Both carry approximately the same therapeutic effects when used in aromatherapy.