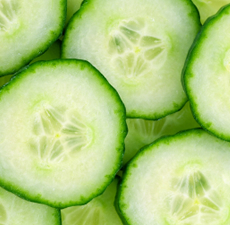 Fragrance Family: Greens, Citrus/Fruity
Botanical Name: Cucumis sativa
Extraction Method:
Origin:

A fresh, crisp cucumber fragrance. Top notes of cucumber, green, muguet and citrus. Geranium and rose at the heart of the fragrance. A soft violet and musk at the base.
Green Apple, Pink Grapefruit, Magnolia Blossom, Lily of the Valley, Tuberose, Sandalwood, Musk, Water Lily
As a cosmetic, Cucumber is excellent for rubbing over the skin to keep it soft and white. It is cooling, healing and soothing to an irritated skin, whether caused by sun, or the effects of a cutaneous eruption, and Cucumber juice is in great demand in various forms as a cooling and beautifying agent for the skin. Cucumber soap is used by many women, and a Cucumber wash applied to the skin after exposure to keen winds is extremely beneficial.
Cucumber is a creeping vine that is widely cultivated for its cylindrical edible fruits. The plant originates from India, but it is now cultivated all over the world. All cucumbers fall into one of the three groups: "slicing", "pickling", and "burpless". Slicing cucumbers are consumed fresh, pickling cucumbers can be pickled for flavor, while the burpless (or English cucumbers) usually have sweeter taste and thinner skin.