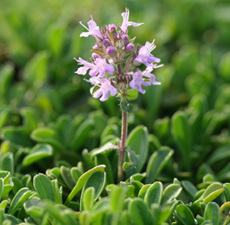 Fragrance Family: Aromatic, Greens
Botanical Name: Thymus zygis
Extraction Method: Steam Distilled
Origin: Spain

Thyme Essential Oil has a spicy, warm, herbaceous scent. It is very powerful and penetrating, with medicinal and green tones. Influenced greatly by its surroundings, Thymus Zygis will produce very different oils depending on climate, soil condition and altitude.
Bergamot, Pink Grapefruit, Lemon, Lavender, Rosemary, Pine, Orchid, Ylang Ylang, Tonka Bean, Vanilla, Blood Orange, Clary Sage
Thyme Essential Oil is believed to have antiseptic qualities, as well as the ability to cultivate courage. Many aromatherapists credit White Thyme Oil with having stimulating, uplifting, and reviving properties. It should also be noted that the active ingredient Thymol may crystallize in temperatures below 20 degree Celsius. The more Thymol present, the greater it's propensity for altering states. We would recommend placing the bottle in a very hot water bath, changing the water frequently and once it is back to the liquid state be sure to shake before use.
Thyme was used in ancient herbal medicine Greeks, Egyptians and the Romans. It was used as an incense in Greek temples and the Egyptians used it in embalming. During the Middle Ages it was given to jousting Knights for courage, and a sprig of thyme was carried into courtrooms to ward off diseases.
Thyme Essential Oil is a possible skin irritant. It is toxic if not properly diluted. It is a powerful oil in the hands of an experienced Aromatherapist.