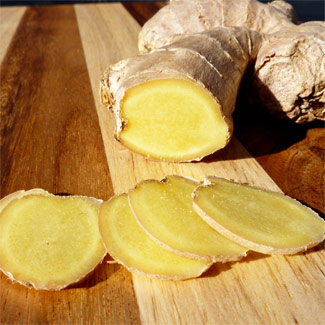 Fragrance Family: Oriental
Botanical Name: Zingiber officinalis
Extraction Method: CO2 Extraction
Origin: China

Ginger has a warm, spicy, woody scent with a hint of lemon and pepper. Many find it very similar to the powdered spice.
Jasmine, Neroli, Lavender, Mint, Rose, Bergamot, Patchouli, Lemongrass, Green Tea, White Tea, Orange, Lime, Ylang Ylang, Sandalwood, All Spice, Cardamom
Ginger Essential Oil is believed by aromatherapists to be applicable for colds and flu, nausea (motion sickness, morning sickness), rheumatism, coughs and circulation issues. It also has warming properties that help to relieve muscular cramps, spasms, aches and ease stiffness in joints. Ginger is also viewed as an aphrodisiac and is believed to ease anxiety, renew vitality and revitalize self-confidence.
The plant is said to originate from India, China and Java, but is also native to Africa and the West Indies. It is believed that ginger was brought to Europe between the 10th and 15th century as both a condiment and spice. It has been used for medicinal purposes since the ancient times; it is recorded specifically in both Sanskrit and Chinese texts. It is also mentioned in literature from the Greeks, Romans, and Arabians.
Ginger Essential Oil can irritate sensitive skin. Avoid use during pregnancy.